[NOTE: contains some mild spoilers for the Metroid saga, but no spoilers for Metroid Dread]
It was a shock to hear that Nintendo had produced
Metroid 5 (Dread)
and it would be ready-to-play in October, no less. And I was also surprised to find I've never really written about the franchise. So, here we are... 2021 is a long way from 1994, when I first played a Metroid game.
Super Metroid was a seminal moment. I was thirteen. I recall two things happening in that point in my life. One, I was drinking huge glasses of Metamucil. There was a motherly thought that I wasn't getting enough fiber, so I'd consume the supplement after school while gazing up at the TV pixels. Two, I had relatives visiting while I was in the thick of exploring Zebes. I was so engrossed in the game that I would be zoned-out when they tried to engage me. I regret this memory as an adult, but I admit I was a socially-awkward kid having a "watershed moment".
Super Metroid existed in a pre-WWW time, where there was a reliance on hearsay and printed media for hints on such a maze-like map (or a tricky boss fight). But, I don't remember any friends or neighbors playing Metroid, so I must have figured it out solo. I did have the game manual, but that's was the extent of my knowledge of lore. Besides, video game canon is disregarded easily.
Putting "Super" in front of SNES games was a gimmick, but for Metroid 3 I think there is a subtext. It is a story that picks up after Samus Aran has exterminated all but one of the titular species (see also, Metroid II story). The larva is stolen by Space Pirates for weaponizing purposes. Eventually, the hatchling grows to be gigantic--much larger than seen previously in the canon. The gigantism could be due to Pirate genetic manipulation/weird science, but it is clear this is a super specimen.
Like many others dedicated the franchise, I was elated to see another 2D metroidvania officially greenlit in a post-Switch era. In this time of remakes and revamps (like Skyward Sword HD), it also seemed odd that there wasn't a digital way to play the Metroid predecessors. I wasn't impressed enough to buy the Samus Returns remake--didn't make sense to buy a DS handheld just for that. So I did what probably many other Geriatric Millennials did--I dusted off my Game Boy Advance SP to play Metroid 4 (Fusion) and the Zero Mission remake. It seemed like a chore at first, but just a few hours into the Metroid 1 remake fueled the nostalgia enough to go down a YouTube rabbit-hole. 🌌
I've been watching a lot of streamers playing ROM hacks/mods of Metroid games. It astounds me how much time people put into their customizations of the Metroid games. It's fanatical, and it's clear the Metroid fandom is alive and well, mostly as Super Metroid is on the "Mount Rushmore of speedrunning". It's a game rich in intentional sequence breaking with frame-perfect precision.
Metroid Dread speculation
I've shielded myself from Metroid Dread game footage and further spoilers, because I want to go in fresh, cold. Since Metroid Fusion in 2002, there hasn't been any official word on what happened to Samus since the X Parasite incident (and the destruction of planet SR388). My imagination runs wild.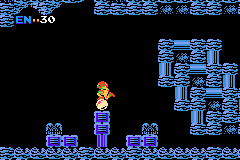 With planets SR388 and Zebes only a memory, Dread will take place on a new setting. I'm sure there will be metroids of some kind and classic upgrades for Samus' suit, but I'm looking to have my expectations subverted. The classic beginning of Samus obtaining the morph ball upgrade can't happen as it did in Metroid 1 (and the nearly-identical Metroid 3) intro. Because the events of Fusion gave Samus a fully-powered suit, there will have to be some explanation as to why the enhancements are needed (yet again). I understand the "upgrade progression" need in metroidvania, but perhaps the morph ball won't be the first suit upgrade. Hell, maybe Samus will start suitless! Also, I hope they don't bring back Kraid and Ridley--those dudes are dead. Something novel, please.
There's also an interesting connection with world events and the curing of Samus with a vaccine. Maybe they'll do something cool with that...
I've never had a desire to play the 3D Prime games, but I know there's a narrative of phazon, Dark Samus, etc. There's a possibility there, plus that could to satiate Prime fanboys.
The Metroid saga is a YA game that stands out in a milieu of Nintendo franchises for kids. No matter how much the Legend of Zelda tries to be serious and dark, it won't alienate the kids. And that's maybe why I like Metroid so much--it stays dark.
In 1994, I hadn't seen any of the Alien movies, but Xenomorphs and facehuggers were part of the 80s/90s pop-culture. And its popularity was a springboard (springball?) for the Metroid story and aesthetic. Whatever happens with Dread, at a minimum it will be a fun maze of discovery with a retelling of the original mythology. I'm totally OK with that.
Axiom Verge 2 is also slated for 2021. It seems like my gaming schedule is overbooked! 🦠